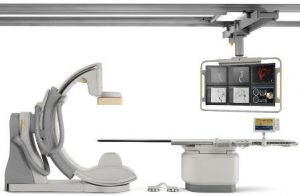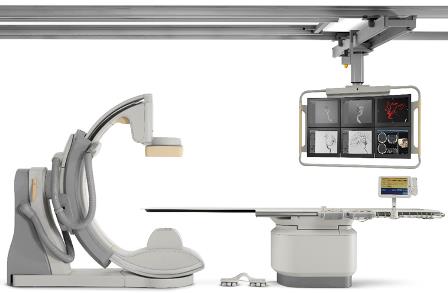 Interventional radiology is a medical speciality that uses the various imaging and scanning facilities to offer a range of minimally invasive procedures which, in many cases, can replace conventional open surgery. Advances in scanning and medical device technologies over recent years have seen a huge increase in the scope and ability of Interventional Radiology to treat a wide variety of conditions.
Heartlands has one of the busiest interventional radiology centres in the country, offering over 60 different procedures and performing over 2,500 examinations a year. As part of the rolling improvement works currently underway with the imaging department, a £750,000 refurbishment of the theatre is underway to upgrade the equipment and facilities.
The modern facilities and state-of-the-art imaging equipment will allow the team to see and treat more patients, more quickly due to reduced waiting times, along with the ability to perform a wider-range of procedures. The new surroundings will also make a huge difference to not only the service but to all our hospital sites, patients and staffs' care and experience.
In order to complete the upgrade, the theatre will remain closed until the opening of the replacement theatre in March. The next stage of the project will see the relocation and upgrade of the general x-ray room with digital equipment, followed by a newly refurbished digital x-ray room in the Emergency Department. Further equipment purchased includes a digital x-ray mobile, an image intensifier, MRI and CT scanner. The Interventional Radiology theatre at Good Hope was fully refurbished and upgraded in 2012, along with seeing the arrival of a new ultrasound machine and a digital x-ray room in its Emergency  Imaging Department late last year.
There may be some slight changes to the imaging and radiology service while the on-going transformation work is carried out. All patients with related appointments will be informed ahead of attending the hospital and operational updates for staff will be in the weekly Round-up.
Further improvement plans are underway, not just at Heartlands and Good Hope, but Solihull too. The latest updates are available @HEFTradiology and keep an eye out in future editions of News@.