Specialities: Cardiothoracic, Forensic Radiography, Gastro-Intestinal Radiology, Gynaecological Imaging, Musculoskeletal, Neuroradiology, Uroradiology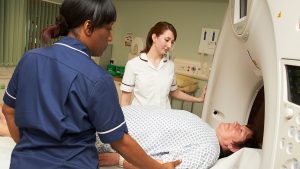 CT scanning is a fast, accurate and non invasive way of producing high quality cross sectional images of the body. It is used to help doctors diagnose and treat many different types of medical conditions.
It consists of a table that the patient lies on and a 'doughnut-shaped' scanner gantry that houses an X-ray tube. The patient passes through the scanner as the X-ray tube rotates within the gantry. The scanner uses sophisticated computer technology to detect the X-ray radiation passing through the body and produces detailed cross-sectional images of the different tissues within the body. Different computer software applications can be used to construct images for analysis by a consultant radiologist.
On the Heartlands, Good Hope and Solihull sites we scan in excess of 80,811 scans a year.
At Heartlands Hospital we have a Toshiba 320 slice volume CT scanner, which was the first of its kind in the region and only the second to be installed in the NHS. With the ability to scan an entire body part in one rotation and in less than a second, it completes a scan in a fraction of the time compared to previously available CT scanners. This results in the patient's investigation being completed more quickly, and radiologists able to access the scan results within seconds for a faster diagnosis. The CT scanner also offers the lowest radiation dose available to patients, along with providing a very high scan quality.
In addition to this there is a second scanner at Heartlands, a Toshiba 80 slice scanner. On the Good Hope Hospital site we also have a 16 slice Philips CT scanner and on our Solihull Hospital site we have a 80 slice Toshiba scanner.

Information for Patients