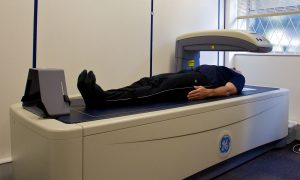 Bone Mineral Density can affect many patients particularly the elder generation who suffer from fragility fractures. It also needs to be monitored in more recent years on patients who are prescribed certain drugs for the treatment of breast cancer, cystic fibrosis and coeliac disease.
The latest Lunar iDXA machine is manufactured by GE and is sited at Good Hope in the Treatment Centre X-ray Department. The technology of this equipment with its 6-point calibration system ensures precision and accurate measurement of Bone Mineral Density.
This system is fully integrated with the PACS and RIS systems in use in the department and a composer report with follow up recommendations is issued with each scan.
There is a dedicated small team of Senior Radiographers who have all completed the Bone Density reporting course that operate the Dexa scanning lists. At the moment there are three sessions per week but we are looking to increase this following a surge in demand for this routine examination.
At Solihull the Dexa machine is staffed by Radiographers but the service is managed by Rheumatology.

Information for Patients