Making a Referral for Imaging
We actively encourage the submission of an electronic referral via the iCare Vortal in order to avoid any potential delays in obtaining diagnostic imaging and results.  A hard copy of our Imaging Referral Form is also available.
IR(ME)R 2017 – Duties and Responsibilities of Referrer
The referrer must supply the practitioner with sufficient medical data, such as results of previous diagnostic or imaging investigations or medical records, relevant to the medical exposure requested by the referrer to enable the practitioner to decide whether there is sufficient net benefit as required by Regulation 6(1)(a) to enable justification for the exposure to go ahead.
As a minimum requirement, the referrer must always supply the following information when making a request. There is also a responsibility to ensure that the request is being made for the correct patient and the referral should be completed at the point of care:
Patient full name, address, date of birth and hospital number. For patients referred by a general practitioner (GP) the minimum requirement is full name, address and date of birth, so that the patient can be accurately and uniquely identified.
Clinical information to justify medical exposure i.e. clinical diagnosis, clinical findings on examination, any available histology and relevant previous imaging investigations. Include relevant medication for Nuclear Medicine examinations and whether the examination is for medico-legal reasons or research purposes.
Information on pregnancy status, (in line with IR(ME)R Procedure 4) and whether the referrer wishes any restrictions to be waived by a practitioner for female patients undergoing x-ray procedure which involves irradiation of the abdomen and all nuclear medicine procedures.
A signature (plus clearly legible name and job title) uniquely identifying the referrer – this can be electronic if requested through iCare.
Lesson of the Month, October 2016 – Radiation Related Incidents.  It is everyone's responsibility to ensure the right patient has the correct examination and is not irradiated unnecessarily.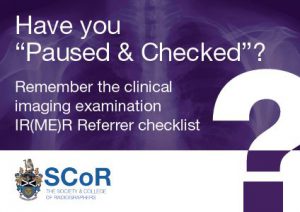 The IR(ME)R referrers checklist guidance covers checks for the Patient, Anatomy, User, System & Settings, and the End of an examination.
IR(ME)R 2017 – Referral & Justification Criteria
Under IR(ME)R 2017, all referrals for radiological examinations need to be justified, authorised and protocolled in line with this legislation.
Ultrasound Referral & Justification Criteria
Our new referral guidelines are evidence based and offer increased support, ensuring the best use of radiology services. Further supported by the Royal College of Radiologists – Making the best use of clinical radiology services Referral Guidelines 2007. This has more recently been superseded by the eighth edition of iRefer which is now available online and in booklet format.
NB: If you have any questions relating to the protocols or need further clarification on any issue relating to the IR(ME)R regulations please contact a Consultant Radiologist or Advanced Practitioner Radiographer who will be happy to offer assistance and support as appropriate.
Results & Results Acknowledgment
The referring clinician is responsible for informing the patient of their results, positive or negative, and documenting that this has been done in line with NPSA Safer Practice Notice 16 – Early identification of failure to act on radiological imaging reports
If you are using e-requesting an audit tool is available to allow you to monitor the reports/results requested in your name. Download instructions for access and use